Detta evenemang har redan ägt rum.
Utställning: Dream Garden / Impressions of a Butterfly
1 mars, 2019 @ 3:00 e m

-

31 mars, 2019 @ 5:00 e m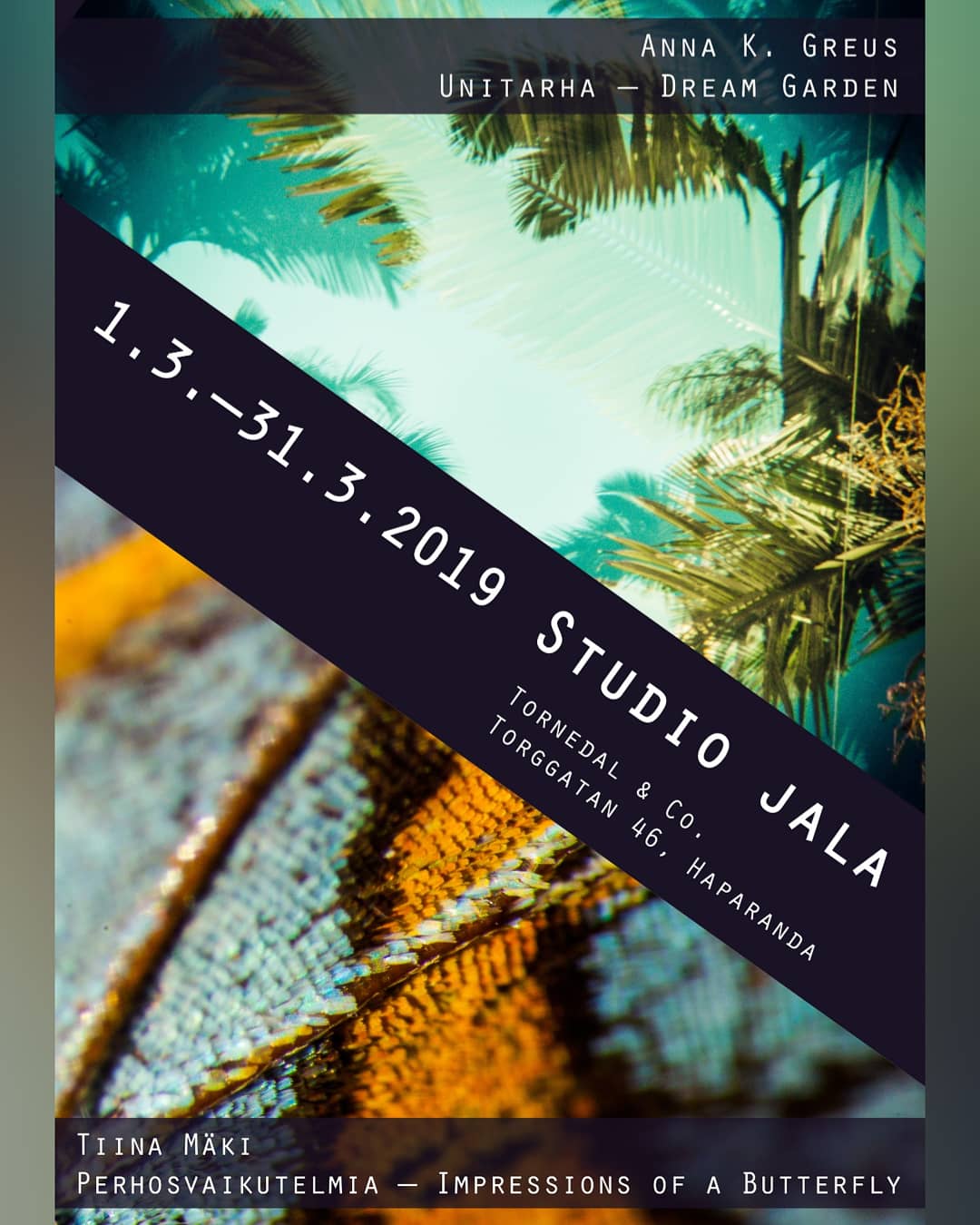 Impressions of A Butterfly in The Dream Garden
A duo exhibition presenting close to nature illusions pictured by two photographers both
using special techniques of their own. Exhibitions are on display at Studio Jala, Haparanda
in March 1–31, 2019.
Anna K. Greus
(b. 1987, Oulu) uses experimental photography to explore how to create mystical and
dreamy worlds into her photography art. Greus finds her inspiration from the depths of
existence, paranormal phenomena, dreams and beauty of nature. Altough the images are
shot with a digital camera, the effects are created with analogue methods; basically only
adjusting colours and contrasts with the computer afterwards. Greus has studied Bachelor
of Media degree in Tornio and worked as a photo journalist in Pohjolan Sanomat
newspaper. Nowadays she lives in Helsinki and works as a freelancer in photography and
TV-productions.
Tiina Mäki
(b. 1988, Rovaniemi) In these photos Mäki is processing conflicted union of beauty and
antipathy by presenting microscopic images of a white admiral. Mäki found this deseaced
butterfly from a drawer at her work place and got inspired to have a closer look at it with
macro and mircroscope technique. The experiment turned into an artwork series that
explores conflicted allegories from fobia to fascination associated with butterfies. In these
images viewer gets an illusion of a lively and vibrant, flying creature, even tough this insect
has been deseaced a long time. Mäki has studied both Bachelor of Media degree and
Vocational Examination of Photography in Tornio. Nowadays Mäki lives in Oulu and works
as a medical photographer in the University Hospital.
The opening of a duo exhibition is on the 1st of March, 2019 at 3 pm (Swe time).
The artists are present.